In her teachings as well as in her bestseller Welcome to the 5th dimension », the author Diane LeBlanc (better known as Bianca Gaia), highlights the five most important aspects to consider in the life of every human being in order to feel better, establish the proper balance and live happily every day.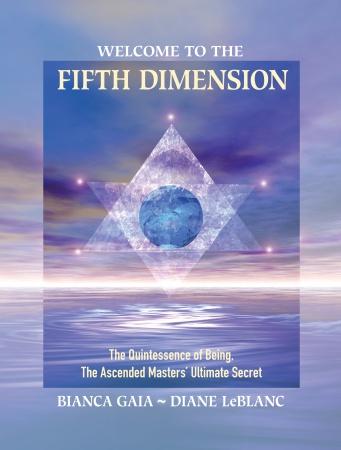 « With all the changes experienced both individual and planetary, says Mrs. LeBlanc, the intent of my book is to be a practical guide to help people release the best part of them: their divine Quintessence ».
Personal coach and channel, Mrs.. LeBlanc hosts, for several years now, number of seminars, lectures and workshops on personal growth as well as spirituality, therapeutic creativity and global health. Since 2004, this cordial woman also owes her popularity to her French website, www.biancagaia.com, which is visited monthly by over 5000 people from over 25 different countries.
More than 1800 copies of her first novel « Cette lumière dans mon miroir » (This light in my mirror) have already been sold. Adding to that are the success of two other books, an aromatherapy guide entitled « 10 huiles essentielles pour soulager plus de 50 malaises courants » (10 essential oils to relieve more than 50 common health problems), and a biography named « Né pour guérir » (Born to heal) which was reedited in France in September 2009. Since 1995, she also wrote hundreds of articles in different French Canadian magazines.
However, the topmost reason of her now worldwide popularity is the diffusion of her channellings, spiritual teachings received by her Higher Self « Bianca » align to the planetary Consciousness « Gaia ». As of now, more than 50 of those channellings are available on the internet, made public by hundreds of different websites, hence reaching thousands of people. Some of those messages have been translated to English, Spanish, Italian and even Japanese.
Her book « Welcome to the 5th dimension » is based on her most popular workshop in Europe. In this seminar Bianca Gaia suggests a « simple, easy, yet happy » (that's her motto!) technique to allow people to integrate the new millennium psychological and spiritual currents into their day-to-day reality… in order to harmonize and balance their whole being.
To order the book, simply click here.



This website is built to help you reconnect with the best part of yourself: the Quintessence of Being, the Ascended Masters' ultimate secret.


To read some of Bianca Gaia's channellings, click here
To contact us, click here